"Can't You Do Better For Yourself?"
12 May 2019
Finally, a new catalog. Slow & Steady, etc. Lots of great new stuff for someone of taste (good). And, two new IFCO releases: Live Aboard The Sinking Ship, a 90 minute tape of Karla and I playing live aboard a sinking ship, and, a CD reissue of The Island Of Taste LP.
Since I mentioned IFCO, one of the things that have kept me busy is that we have been rehearsing our new quartet and we played our first live show at the Root Cellar in Greenfield. Apart from some technical difficulties with a keyboard, the show went well. We will continue to rehearse and, if you are in the area, we will be playing a show at the New Salem Meetinghouse on June 14. Special added attractions: Karla solo piano set (!), Willie Lane, and Aaron Rosenblum. All of this is the build-up to us recording an LP with Mike Popovich (bass) this Summer.
We have also started working on some keyboard/ synth music to accompany the excellent official version of The End Of The Line. We have some basic tracks recorded and I intend on doing a little studio work, which I have not done for quite some time. All Systems Go! Hopefully, The Light That Never Ceases To Fail will be released on Feeding Tube soon. I will keep you informed.
I hope you enjoy the reviews and the collection of curios on offer. Thanks for the support. I am a living artist who could use some money. Oh! The Sizzling Sinking Ship Sale just got hotter! 30% off! Go For It!
I will probably have a brief update when the glorious Two Daughters 2LP gets here, probably sometime in July. If you are interested in a copy, it would not hurt to let me know.
Here's To Love!
Scott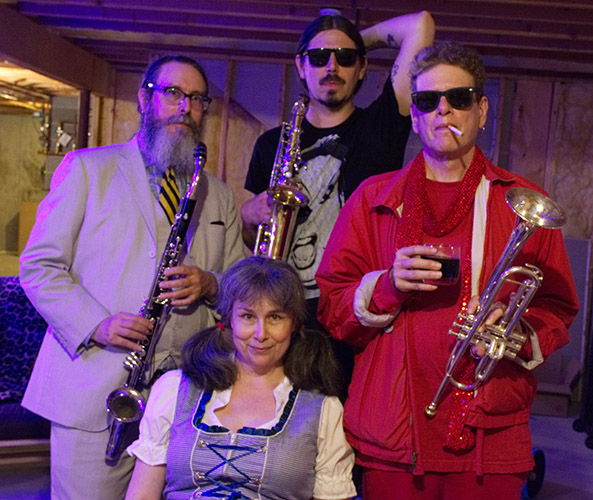 Here's To Love!
Scott
SIZZLING SINKING SHIP SALE
30% off all Sinking Ship items. Use it!
Swill/ Spam + Mail List Change
I have been told by a number of customers that my reply email to their record order ended up in their spam folder. Unless I am on the road, which I would never do within two weeks of a catalog, you will almost certainly hear back from me within 24 hours. If you do not, check your spam folder or write to me again. I have seen spam with the Swill address, but I always sign my name and write in complete sentences, so it should not be difficult to tell the difference.
At any rate, I have a second email address on gmail as well: swillradio@gmail.com. Both addresses will get to me. So if you are having consistent problems with the crocker.com address, please write to me there.
Or, to solve all these problems, please add swill@crocker.com AND swillradio@gmail.com to your email whitelist.
NOTE: The mail list will now be managed and sent out by MailChimp. Each email should include unsubscribe instructions. Or if you want to sign up:
---
Sign up for the Swill Radio Email List!
---
Anti-Naturals and Related Releases

Idea Fire Company – The Island Of Taste (IDDB) CD $10

The Island Of Taste was originally released on Swill Radio in 2007. It was the last studio recording IFCO has done, at least so far. A CD reissue might be a bit insane these days, but Matthias of IDDB loves this record and wanted to issue a CD, so here it is. (I did 500 copies of the LP in 2007 and still have 50 or so left, so this is a labor of love.) Apart from Lost Victories and Last Man… Last Round, which Karla and I played together (I always play the radio live), this is entirely a studio construction made on my trusty 4 track cassette machine from tapes people sent us and from our own recordings. The other thing I did on this recording, which I have never done before or since, was that I would pick a basic track for each piece and every addition would be speed-modulated so that the tape hiss/room sound would be in tune. I think that is what gives this recording its very subtle, but odd sound quality. This is also the only record I have ever done where I had all the song titles worked out in advance and built the music to suit. A lot of people think Island is our best LP. These days I tend to think Anti-Natural or Music From The Impossible Salon, but I am not one to quibble. The CD sounds great too. Take a chance!

Idea Fire Company – Live Aboard The Sinking Ship (Regional Bears) C80 $11

Karla and I have always wanted to do a live piano duo set, so we set one up aboard a sinking ship! We did two 40 minute sets with songs from The Island Of Taste, Music From The Impossible Salon, Lost At Sea, Postcards, The Synthetic Elements, and our as yet unreleased new LP, The Light That Never Ceases To Fail. We also did a version of Karla's The Still Life (mit radio) and a few new pieces. Everyone seemed to have a good time despite the sinking. The piano is a bit out of tune and I only had my road synth, but the tape is still quite good. (I have had my trusty Korg MS-10 since 1980 and it no longer travels, although it works just fine. I certainly wasn't about to take it aboard a sinking ship.) I do not believe this tape will create any new IFCO fans, but it should be of interest to the few there are.

RESTOCKS!

Mattias Gustafsson – Nattmusik (BAADM) LP $19

Mattias Gustafsson is familiar to readers of this catalog as Altar Of Flies. I believe Nattmusik is his first release under his own name. It is a fine LP. Nattmusik careful balances a piano (usually as loops or slowed down) and the construction of the field recordings and whatever else is used. It is a difficult trick to pull off, but I found this LP quite engaging. There is just enough music to make me appreciate the other sounds. Much like Abstract Painting, if there is a tiny shrimp down in the corner, I can relate to it a lot better. (Of course, then I suppose it isn't Abstract Painting, but we can worry about that later.) This is a fine LP by an up-and-coming new composer. I will be playing all three of the BAADM LPs as much as anything else in this new catalog and that is high praise.

Andreas O. Hirsch – Row (Makiphon) LP $19

[Andreas says these are the last copies of this field recording classic.]

Row = Wow. The concept is simple. Row is a straight field recording of a Dutch lifeboat team on a training run to the Wadden Sea and back again. The first side out, the second back. The sound elements are: the ocean, the rhythmic rowing, the creaking boat, and the rhythmic vocal exhortations of the steersman. It is quite superb. I have a very soft spot for ocean or any sort of water sounds and I adore boat creaking. (I think the best sounding sport in the world is sailboat racing. Second best: ice hockey.) The rhythmic vocal exhortations add a fantastic touch. The first time I heard this, I became somewhat over-stimulated and I have enjoyed it more every time I have played it. This is the best straight field recording record I have heard since Davide Mosconi's La Musica Dell'Anno Zero, the foghorn LP. Karla loves this one too. We were both saddened to read that the steersman/ vocalist, Cees Plug, died in 2013. Row is a great tribute and a fantastic LP. Great presentation and pressing as well. This one certainly floats the boat here at HQ. Do you know what to do now?

Andreas O. Hirsch – Summe One Makiphon) LP $21

Andreas Hirsch is the man responsible for the fantastic ROW field recording LP. Summe One is not a field recording, but music Andreas has made himself. The sound palette is somewhat in the vein of the superb Hassell/ Eno – Fourth World Music Volume One LP. There is a bit of Indian and African percussion and a lot of very woozy synths and guitars and drones. There are also some fine bird recordings. Some of the pieces retain a vague rhythm, while others spiral out into outer space. The whole LP has a minimalist feel that is very appealing, and, although no one can know these days, most of the instruments sound played, not sampled. This record did not make my mouth hang open like ROW, but few things do. It is still superb. A very synthetic imaginary sound world, which is also nicely organic and sounds very personal. Great stuff. Beautiful heavy pressing and cover. File next to ROW, baby

IN STOCK!

Maurizio Bianchi – Menses (Menstrual) LP/ CD $40

Deluxe reissue of this early-ish MB LP with the same stamped cover with a hole and the same labels as the original. Also comes with a small insert which did not appear in my original copy, although I am sure it was supposed to. I fucking love MB! (I forgot to say that in the other MB review.) Menses is an early-ish MB LP and the music is a bit more wandering and less monolithic than his music would become later in his first phase. Still, even early MB is a pretty grim pile. I mean this in the best possible sense. Yra, side one, is synths, echo, and a very murky rhythm box, which is sometimes more audible than others. Yra seems a bit less focused than the best MB, but still delivers the MB goods. There is a bit about 2/3 of the way through that certainly is as close to 'fun' as MB ever got. Scent, side two, is also less focused than slightly later MB, but you can hear the blossoming of that feeling of slightly aggressive hopelessness that would become his trademark. Certainly an imagined future or the present gone awry. Great stuff! Great pressing! If you are new to MB, this might not be the best place to start, but then again, why not? There is a reason Karla, myself, and all of our friends call him The Master (coined by my good friend Miles Champion.)

Maurizio Bianchi – Triumph Of The Will (Menstrual) LP + one sided 7" $25

Originally issued by the Come Organization under the name Leibstandarte SS MB in 1982 along with the companion LP Weltanschaung in 1982. Both records feature MB's music with Nazi speeches and music superimposed on top without MB's knowledge. Excellent early MB, who we all know around here as The Master. At the same time, I rarely play this LP as the speeches (which are probably from the Leni Riefenstahl's film of the same name) give a different, and somehow, less depressing and disorientating atmosphere than The Master's finest. Nice pressing and a 7" of Under The Victory Banner. (If only someone would reissue Examples of Cannibalism, which also has MB's music with readings from cannibal trial transcripts.) If you are new to MB, this is probably not the place to start. If you love The Master like I do, you might need it.

Double Goocher Shop – ST (Regional Bears) C25 $11

Double Goocher Shop is Renato Grieco and MP Hopkins, who should be familiar to frequent readers. Lots of field and who-knows-what recordings, some voice and mouth sounds (including a bit of singing and a fair amount of spoken word), some radio, etc. There is also a lot of editing which is quite well done. The tape has a weird dream-like quality throughout, with the shifting sounds and spoken voices. It is an odd listening experience. The text on the front mimics the strange doublespeak of some of the spoken words. If you like the Surrealist/ NWW/ Lambkin vibe, this is your ticket to ride. Mystery and curiosity at every turn. Very nicely put together. Great stuff.

François Dufrêne – Cri-Rythmes ( Recital) LP $22

Fantastic reissue of a cassette originally issued in 1977 containing Francois Dufrêne's Sound Poetry. The pieces are from 1967-1972. WOW! This is one of the best Historical Sound Poetry reissues I have heard in quite a while. Just a tape machine and a mouth and yet… I am a veteran appreciation of Sound Poetry and this is a superb example. I do not think there is a lot of overdubbing, but I also do not know. The range of sounds and the organization of same are incredible. Right up there with other Sound Poetry Gods such as Gil Wolman and Henri Chopin. Very little equipment, lots of ideas. I truly believe that music like this shows most so-called Sound Art to be a fraud. (This is somewhat a factor of age. You too will think that a lot of new art is a crappy representation of the past, if you still care about new art when you are in your 60s. You will probably be right.) If you want to hear something truly radical, this is it. Let us all raise a glass to Sean for his commitment to Historical Sound Poetry reissues. Fucking fantastic. Great insert with an excellent Bernard Heidsieick essay about François Dufrêne from 1984, a couple of years after Dufrêne died at 44. Definitely the best Dufrêne I ever heard.

Jean Dupuy – All Of The Time (Recital) LP $22

I was totally unfamiliar with Jean Dupuy, but thanks to Sean McCann's tireless work at Recital, now I am. All Of The Time consists of pieces from 1969-2017. The first side consists of three excellent, what I would call process pieces. The first piece, Concert Of Seconds, has 22 rotating discs connected to clockwork mechanisms. The sound is sort of what you would expect, short mechanical rhythmic sounds going in and out of phase. The next piece, Elle Aimait Bien Les Frites, Marguerite (Marguerite Adored French Fries) feature two female voices singing the chorus to this French folk song. Each time through, they move up the scale and sing it a little higher until they get too high to sing anymore. That might not sound that great, but I found it quite enjoyable. The third piece, Paris-Bordeaux, is a field recording from a mic hanging out of a toilet on a French high speed train. Apparently, at that time, the toilets just flushed out onto the tracks. (Oh boy!) It sounds like you think it would sound and that means great. I love trains anyway. The second side is all spoken word pieces dealing with anagrams. They are sort of like Brion Gysin's Permutation Poems, but I like Gysin's voice a bit more. Some English, some French. Certainly not bad, but I enjoyed the first side more. Very nice explanatory booklet in the usual luxury Recital style.

Mattias Gustafsson – Franvarande (BAADM) LP $23

Another superb LP by Mattias Gustafsson. Two great side long pieces. The first, Isolation Of The Instruments, has a beautiful sort of lo-fi, Gas-like droney background, field recordings, and a superb sense of drama. (Cymbal supplied, I think, although it is hard to recognize instruments on this piece.) There are also some superb ratcheting sounds near the end. Fantastic stuff. The second side is the title track, which is subtitled Works For Piano And Tape In Four Parts. And, so it is! Some of the movements feature more piano and less tape, some the other way around. Either way, this is another great piece. Gustafsson's music has just enough music for me and also has very fine dynamics. Franvarande may be even better than his previous LP, Naatmusik, and that is saying something. Top shelf. Highest honors.

Andreas Oskar Hirsch – Early Carbophonics (Makiphon) 10" $22

The follow up to Andreas' excellent Summe 1 LP. This time Andreas is using a home-made instrument, the carbophon. I have no idea what a carbophon is, but it sounds like something you play with your fingers. Lots of repeating, artificial-sounding textures, but played in a very organic way. Summe 1 is like this as well, although the sound palette is entirely different. The music is mostly rhythmic, but not in a dance music sort of way. A very curious and interesting record. Eight pieces that say what they have to say and then stop. That is always nice. There is something about the music that reminds me of Haruomi Hosono's Monad period and some 80s Lovely Records releases, although it does not really sound like either of those things. I get a whiff of Asmus in his Hematic Sunsets mode as well. If any of those things appeal to you, I bet you will love this record. Makiphon is quickly becoming a new favourite label. Excellent.

Leda – Japanese Key/ The Silent Contest (IDDB) 7" $11

Leda is Sophie Herner. This is the second 7" I have heard of her music. It is excellent, as was the first 7". Japanese Key is dominated by a sludgy synth riff, with spoken word, somewhat wild slide guitar (mixed low for the most part), and a clicky rhythm that reminds me of Cabaret Voltaire. The Silent Contest has hissy loops, synth, and singing (which is also mixed low). It still has the New Zealand/ Fierce feel of the first 7". This is what singles are made for.

Sean McCann/ Matthew Sullivan/ Alex Twombly – Charlotte's Office (no label) C60 $11

Another nicely obscure tape from these nicely obscure artists. Most of the tracks have a fine slow, limpid piano accompanied by other things. Lots of room sounds and rummaging. Some guitar and some wind instruments. Although there is the occasional bit of excitement, most of the tracks (all untitled, I lost count of how many) are very languid and content to stay that way. Listening to this tape is like being lost in a fog. Or, perhaps lost in a fog in Charlotte's Office. One might wonder just what sort of office it was. If you like slow meandering sounds with some wistful piano here and there, Charlotte's Office might be a good destination for you. I particularly enjoy the occasional hissing sounds, which sometimes sound like someone spraying a bottle of spray cleaner and other times sound like an old fashioned steam press. There is a very long spectral drone that finishes off side 2 that has not much piano and some very steam press-like sounds. Great tape.

Produktion - Film Soundtracks (Menstrual) CD $19

Produktion were three Australians, Paul Hurst, Christine Glover, and Ross Cannon, who ran a hair salon in London in the early 80s. For a while, their salon was the only place in London where you could buy Come Org records and tapes. (I have had my girlfriend/wife cut my hair since 1978, but I wish I could have had a haircut there.) I got the original tape when it came out and the Italian 90s bootleg LP, and it is still nice to have on a CD. Produktion has that minimalist Noise/ Power Electronics/ Experimental edge that I love so well. There is some sort of drone (synth?), some feedback, some radio, maybe a little muted yelling. The whole affair is very dire and very compelling. Four tracks; the last two are shorter and involve processed vocals, one also has an abused string instrument. Excellent stuff. I love the stringent Avant Garde rawness of the sound.

Remnants – Marred By Time (Crisis Of Taste) LP $16

Remnants is Ryan Marino, who has been active since 2010. This is my first exposure to his work. Marred By Time has six pieces, all composed using cassette tape loops. The immediate comparison that came to my mind, was my good friend Matt Krefting, who makes solo music in a very similar way. And, the music is somewhat similar. I would say the loops are a little less recognizable In Matt's music, but Marred By Time is still quite subtle. This is a great LP. A lot of the music has a very forlorn feel, without the in-your-face gimmickry of William Basinski. There are some aggressive bits, but the majority of the LP is rather dire and sort of minimal. And, the aggressive bits are somewhat repetitive, which, in this case, makes them less aggressive. Demon has a particularly great build up and arc. Marred By Time is obviously well thought out and well put together. Very nice. If you like this sort of thing, this is for you.

Small Cruel Party – Resin : : Parched : : Cthonic (Ferns) LP $24

This LP is a reissue of a cassette released by A State Of Flux in 1991. I know I have been at this too long as I carried the cassette back in the old paper catalog days. You would think I would be doing better for myself after all of these years. Small Cruel Party is always great. I cannot think of a release that is not excellent and Resin is no exception. There are droney elements, excellent dramatic and yet minimal use of noisy elements, and the sounds are all pretty much unidentifiable. The editing is superb, and, as I well know, it was a bit more complicated in those days. This is commanding and arresting music, somewhat drone oriented, but not afraid of Action. Beautiful cover and printed insert to boot. If you do not know Small Cruel Party, check it out. They are very underappreciated in my view.

Société Anonomie – Newcastle 22/3/83 (Menstrual) CD $19

Société Anonomie were an offshoot of the Produktion band/ hair salon. Although I have not heard enough of either band to be sure, it seems Societe Anonomie use more tapes in their music. Like Produktion, this is a superb example of the underground experimental music of the early 80s. Both long tracks have that aimless feeling of ennui that seemed very appealing at the time. And, it still is! Lots of murky tapes, tremolo, sirens (could be synths), and who-knows-what-else. I did not own this tape at the time, so listening to this was quite pleasant. Miles ahead of a lot of today's somewhat useless Sound Art. Hopelessness at its finest. If you love MB (and who doesn't?), this is for you. Very bleak and desolate.

Karl Van Welden + Frederik Croene – Mars II – Music for Automated Piano, Pianist, and Ash (Metaphon) 2LP Box $82

Whoops! I have had this record for over a year and I just noticed it today as Karla was helping me get the catalog out. I will write a review next time as it has been so long since I have heard it. It is good!

VA – First Citizens Of The Moon (Cor Ardens) C60 $11

No one likes reviewing compilations. Well, if someone does, it is not me. First Citizens Of The Moon is a great tape, compilation or not. Most of the tracks feature voice in one way or another and the others may have voice as well. The whole enterprise is coherent despite the wide variety of artists. I do not recognize a lot of the names and some of the ones I do, I just know the name. I do know the music of Blue Chemise (excellent piece) and Vox Populi (a name from the past that I was as ambivalent about then as I am now), and Crank Sturgeon (there's a name I haven't heard in a while). Blue Chemise, Ami Yamasaki, and Sarah M. Farmer are the highlights of the first side for me. Blue Chemise deliver a typically excellent droney piece, Ami Yamasaki supplies some extreme and beautiful tape manipulation, and Sarah M. Farmer serves up one of my favourite pieces on the tape, a heady brew of whispered sea reports, foghorns, and tones. On side B, Creode provide a fine piece that sounds a bit like live IFCO circa 1996-2000. I like that! The Jim Strong track is great too, with its sawing violins and odd tapes. I always like Eastern European Choral singing, and the last track is by The Philadelphia Woman's Slavic Ensemble. I did not like every track, but this is a solid tape. Comes in a neat laser etched card, which is attached to the tape via a twisted wire. I made Karla open it for me.

PAYDAY! AT LAST! (PART II)

OK. My invention of the word 'obstructical' did not set the world on fire. But I was just getting the lay of the land with word invention. I have a brand new word, which might finally bring me the payday I so richly deserve:

tokeniki

Tokeniki refers to the consumption of marijuana. Examples of usage:

"Matt's no good to anyone right now. He's had a bit too much tokeniki."
Or
"I'll be over in a few minutes. I just need a little tokeniki before I deal with any sort of authority."
As with 'obstructical', my payment scheme is as follows: The first use in verbal or private correspondence is free. Take it for a test drive! After that .10 (USD) per personal usage. If profit is involved in the usage, my cut is 1% of the profit or .1% of the gross, whichever benefits me more. If I get enough money for this one, I will be able to realize more art projects before I am dead. Everyone Wins! I think I'll celebrate with a little tokeniki.
You too can use this word. It only costs 10 cents per use in print or speech. My PayPal address is my email address. Quarterly payments will be quite fine.
Postage Info for US customers
On The Corner(s)
I understand that people want their new records in pristine condition. In the past, when anyone had a complaint about bent corners, I just always replaced their bent cover with the cover from my own copy. (I grew up in a different time. Bent corners do not bother me at all.) Unfortunately, I have had enough returns lately that sometimes I have had to exchange the cover of more than one copy of the same LP. Since it is nearly impossible to sell records with bent corners these days, even at a loss, this means a financial subtraction at the Swill end of business. So, from this point on, the only packages that will receive Swill Radio Corner Insurance will be those sent via Priority Mail. Priority comes with $50 worth of insurance, which you can get and send to me and I will then replace the cover(s).
Sorry, but you are on your own with Media Mail.
I can also double-box any order, but this will cost a little more as boxes do not grow on trees.
OVERSEAS CUSTOMERS
International postage has increased dramatically here in the US. It now costs $20 to send one LP overseas. The price lessens with larger orders. Five pounds (about 8 or 9 LPs) is around $55 and ten pounds is around $70. Here is a list of overseas distributors that carry Swill Radio products:
UK
Infinite Limits
Penultimate Press

France
Metamkine

Australia
Albert's Basement
Repressed Records
Sweden
Il Dischi del Barone
Ordering, Payment, and Postage Info
Email first to reserve the items you want! Please do not reserve records unless you actually intend to pay for them.
You can email your order to me at swill@crocker.com. Please include a subject in your email: Many spam emails have no subject and there is a danger your email will get quarantined because of this.
Note: If you would like to send me something via post, please write for an address.
Swill Radio accepts PayPal.
Check or money orders: Payment must be in U.S. dollars. Please make payable to Scott Foust. Massachusetts residents must add 5% sales tax.
---
U.S. postage is now based on location, as well as on weight. Please be sure to include your zip code so that we can calculate postage.
Everywhere else: Please write.
---